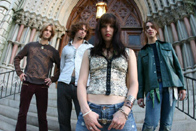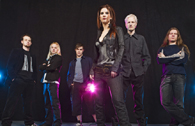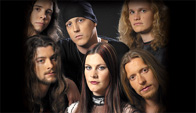 Chart facts: This year-end chart of the top 50 songs of 2009 is represented by 40 artists from 14 countries (
15 US, 10 Netherlands, 8 Canada, 5 Italy, 4 Finland, 2 UK, 2 Norway; and 1 each from Switzerland, Russia, Sweden, South Africa, New Zealand, France, and Liechtenstein
). This year tops 2008 as the most diverse year-end chart ever.
12 artists have more than one entry:
Apocalyptica
is at #16, #22, #43;
Theory of a Deadman
is at #20, #24 and #41;
Lacuna Coil
is at #21, #46 and #47.
Cristina Scabbia
,
Within Temptation
,
Delain
,
After Forever
,
Sirenia
,
Tomahawk
,
Red
,
Hanna Pakarinen
, and
Daughtry
all have two hits apiece on our chart.
Other minutiae:
10 artists from last year's top 50 are back this year: Red, Daughtry, Linkin Park, Lacuna Coil, Muse, Seether, Theory of a Deadman, Apocalyptica, Alter Bridge, and Within Temptation. In addition, Daughtry is back as a solo artist, and Ailyn is back as the lead vocalist of Sirenia on "The Path to Decay."
There are 5 remakes: "Enjoy the Silence," "Careless Whisper," "Umbrella," "Feels Like the First Time," and "SOS (Anything but Love)."
There were 21 #1s and 6 #2s.
There are 6 Dutch acts in the top 10!
There are 5-multi-act entries: Apocalyptica features on three, with Cristina Scabbia, Hanna Pakarinen, and Adam Gontier; Chris Daughtry teamed up with Christian rockers Third Day, and Cristina Scabbia also worked with Alter Bridge. Three of these are multi-national collaborations.
The lowest peaking song is "Closer," which reached #7.
18 artists are here with their first charted hit. 5 of these have two songs present.
There are four foreign language songs on our chart, all of them #1s!
23 songs have a female presence, from 17 females present: Sharon den Adel (Within Temptation), Hanna Pakarinen, Meri Tadic and Anna Murphy (Eluveitie), Simone Simons (Epica), Lzzy Hale (Halestorm), Cristina Scabbia (Lacuna Coil and solo), Ailyn and Monika Pedersen (current and formerly of Sirenia), Charlotte Wessels (Delain), Floor Jansen (After Forever), Judith Rijnveld (Kingfisher Sky), Marjan Welman (Autumn), Daria "Nookie" Stavrovich (SLOT), Annlouice Loegdlund (Diablo Swing Orchestra), Eilera, and the late Sabine DŁnser (Elis). All but Meri Tadic are vocalists.
Only 2 of the top 50 are acts have been around 20 years or more. Journey is the eldest, followed by Depeche Mode.
One song features 5 designations: "SOS (Anything But Love)" by Apocalyptica and Hanna Pakarinen clearly features a female and is a multi-artist hit, but it's also a remake, from a soundtrack, and Hanna comes to us through the Idol franchise.
Cristina Scabbia features in 5 hits on our chart as either a solo artist or with Lacuna Coil.